Flashback Friday: 6 Activities We Did For AIM Global in 2014
The Cebu
Teambuilding
Facilitators Network facilitated a
team building
program for AIM Global's PSGW 1 Team last 14 December 2014. The event held at
Papa Kit's Marina and Fishing Lagoon
in Lilo-an, Cebu, Philippines had the theme: "Coming Together is the Beginning. Keeping Together is Progress. Working Together is Success."
AIM Global PSGW 1 Team Building at Papa Kit's Marina and Fishing Lagoon in Lilo-an, Cebu, Philippines
Indeed, team members were treated to a variety of activities that not only allowed them to come together and bond, but also provided opportunities to strengthen relationships and their team, and more importantly went through activities that challenge their team's working dynamics.
Here's a look at some of the things they did:
Everybody Up
One of the activities that the entire AIM Global PSGW 1 team performed was the everybody up. It was a very strong metaphor of making sure everybody gets up from their initial position on the ground.
Minefield
2014 was an era that CTFN still used blindfolds in some of its activities. CTFN has ditched the practice for safety and other reasons since. One of the activities that CTFN used to have blindfolds on participants was an activity called minefield.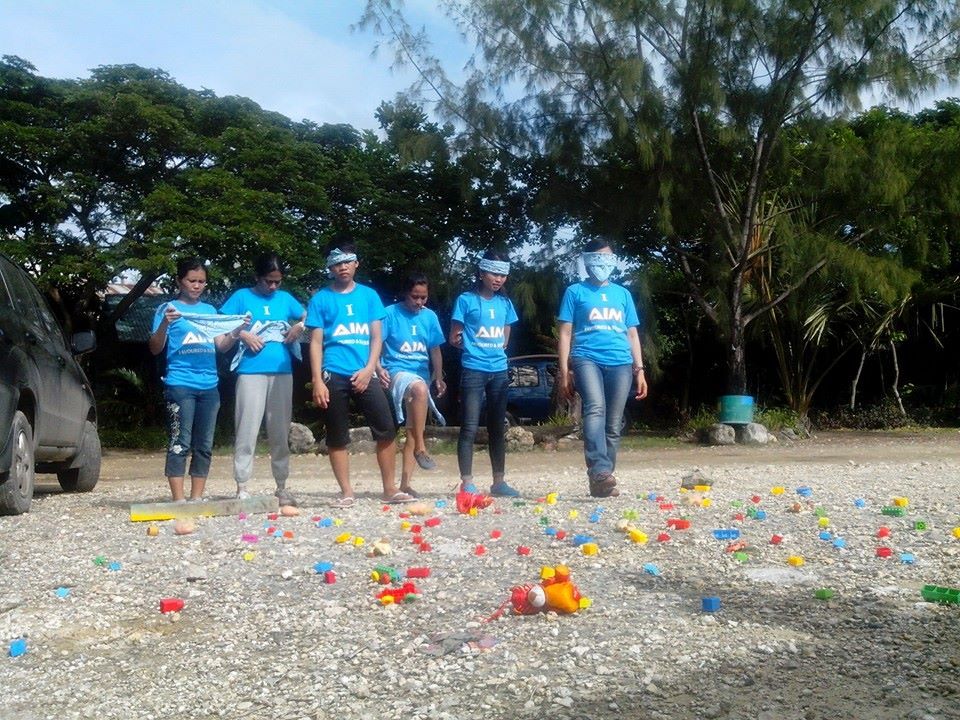 Minefield
Beeping Squares
Beeping squares can be a communication exercise or one that tests individual's attentiveness and mindfulness.
Beeping Squares
Helium Ring
Helium ring is a true test to a team's working dynamics. The simple activity has always been an effective way to get teams to become aware of how they work together on group tasks.
Pipeline
Another classic team building activity that brings a team to improve their working dynamics is the pipeline.
Popsicle Push-Up
An activity that tested team's ingenuity and creativity was the Popsicle Push-up.
Popsicle Push-up
CTFN facilitators who facilitated the event were CTFN founder Thadz Engaling, Kirk Patrick Castro, Nathaniel John Arong, Lenbi Laborte, Jeanen Pelare, Marc Peterson Ng, Reba Palang, Flobby Comeros, and Ava Gerundio.
AIM Global PSGW 1 Team Building at Papa Kit's Marina and Fishing Lagoon in Lilo-an Cebu Philippines