Team Building in Bohol For Summer 2016
Cebu-based organizations need not spend too much when they want to spend their summer outing or team building event in Bohol's famed Panglao Island. Continue reading to find out how to hold team building and summer team bonding activities for your team in Bohol without spending a huge amount.
Cebu Teambuilding Services
The first step in creating a meaningful team building program for your organization in Bohol, make sure that professional team development consultants facilitate the activities for your team. Cebu Teambuilding Services specializes in developing, implementing, and evaluating team building programs for organizations in Cebu and elsewhere in the Philippines.
To request for a proposal and quotation from Cebu Teambuilding Services,
PLEASE CLICK HERE
.
Travel at Night, Save on Hotel Costs
A key component in making sure that your organization does not spend too much is saving on hotel costs. The way to do this is to take a late night ferry from Cebu City to Tagbilaran City. This way, instead of paying for a hotel, you and your colleagues can sleep in the boat as it travels from Cebu to Bohol. M/V Lite Ferry 10 of the Lite Shipping Corporation departs daily for the port of Tagbilaran City from the port of Cebu City at 10:00 p.m. Travel time takes five (5) hours and the vessel is expected to arrive at Tagbilaran City at 3:00 a.m. the next day. Since 3:00 a.m. is too early, you and your colleagues can get some more sleep at the boat while waiting for sunrise.
Prior to arriving in Bohol, you must already arrange transfers from the Tagbilaran City port to Dumaluan Beach Resort 1. This should cost somewhere around PhP 800 to PhP 1,500 per van that can accommodate between ten (10) to eighteen (18) people. There are a lot of van service providers in Bohol and one (1) provider we can recommend is JMJ Transport. Their website is jmj-transport.com and they are based out of Tagbilaran City.
For the return trip, the same LSC vessel leaves from Tagbilaran City at 10:30 p.m. daily and is expected to arrive in Cebu City at 3:30 a.m. Alternatively, M/V Lite Ferry 1 leaves daily from Tubigon town at 12:00 midnight and arrives in Cebu City at 2:30 a.m. Van fare from Tagbilaran City to Tubigon town is PhP 150 and travel takes a little over an hour.
Instead of waiting for the boat to leave, your team can have dinner at Abi's Seafood and Grill along C.P. Garcia North Avenue at barangay Cogon, Tagbilaran City (fronting Bohol Island State University). Abi's serves a dinner buffet from 5:00 to 9:00 p.m. at an affordable cost of only PhP 250 per person.
Enjoy The Beach at Dumaluan Beach Resort I
While a lot of the beaches in Panglao Island charge PhP 100 or more as entrance fees, there is one resort in Panglao town that only charges PhP 25 per person for admission into the resort. This resort is the Dumaluan Beach Resort 1at sitio Sapa, barangay Bolod, Panglao town, Bohol, Philippines. Fronting Dumaluan Beach Resort 1 is the beautiful White Beach. White Beach is lesser known compared to Alona Beach in barangay Tawala. Compared to Alona Beach, White Beach has a lot less establishments, a lot less people, and a lot more laid back. The white sand cover at White Beach is also way finer. Because of the laid back atmosphere at White Beach, it becomes an ideal venue for team building activities in Panglao island.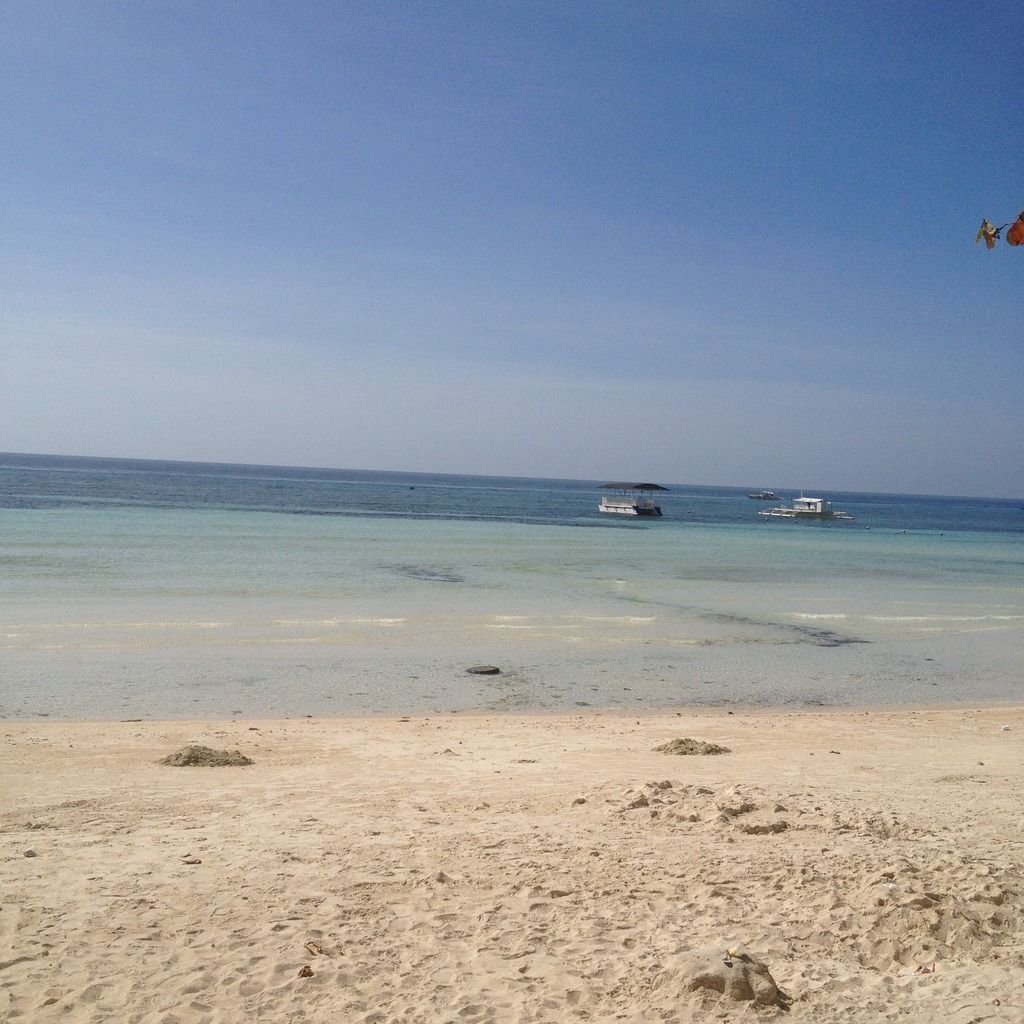 White Beach fronting Dumaluan Beach Resort in Panglao Island, Bohol, Philippines
Upon arriving at Dumaluan Beach Resort 1, your team may have breakfast at the DBR Grill. They serve a la carte breakfast meals for as low as PhP 60.00 per serving.
Buffet meals
are also available for large groups starting at PhP 200.00 per person.
As an alternative, food may also be ordered through the Green DasH food delivery service. Green DasH delivers food to you from restaurants around the Metro Tagbilaran area. They may be reached through mobile numbers 0922 543 8160 (Sun Cellular) or 0997 1116800 (Globe).
One recommendation I would like to make is to order breakfast from Jojie's Painitang Bol-anon. Order either vegetable lumpia, piniritong inun-unang tulingan, kosahos baboy, kosahos baka, and chinorizo. Jojie's also sells delicious kakanin such as cassava cake, dinumugan, and biko dukot.
Cebu Teambuilding Services have conducted several team building programs at White Beach and we attest this is one of the best venues for team building activities in Panglao island. Let your team experience Bohol,
CONTACT US NOW
to arrange your team building program in Bohol.
team building venue in Bohol , team building venue in the Philippines