10 Reasons Why Virgin Beach Resort is a Great Team Building Venue in Daanbantayan, Cebu
One sunny morning, I woke up determined to look for venues I can hold training programs in. So on 12 March 2016, Thads and I took the Cebu Teambuilding Services brand to the northernmost part of Cebu. In a place called Daanbantayan, a paradise hidden from plain sight welcomed us in its timid embrace.
The Virgin Beach Resort is located in Malbago, in the northernmost Cebu town of Daanbantayan. For those who are interested in booking a holiday, you may visit their Facebook page at www.facebook.com/VirginBeachResort.
I will now list ten reasons why, I think, VBR makes a good team building venue.
1. The Spacious Landscape
This is the first thing to look at when considering a venue to hold training programs at. Whether or not your participants will be able to perform the activities you'll be implementing, and whether it can hold their numbers without them squeezing in too much. VRB's area is huge enough to do a challenging scavenger hunt-themed program.
2. The Remote Location
While not really exclusive, VBR is a four-hour bus ride from the Cebu North Bus Terminal in Mandaue City. This type of privacy is optimal when doing trainings.
3. The Function Room
VBR has a function room that can hold up to 200 people. Tiled and Air conditioned of course, complete with tables and chairs, sound systems, and white boards for indoor lectures and activities.
4. The Outdoor Pool
For water activities and for relaxation at the end of the training, the swimming pool is big enough to drench three (3) normal size teams all at once, and as bonus, there's a slide attached to the side. It is also relatively safe having a maximum depth of only four (4) feet.
5. The Basketball Court
Such features will open doors to a wide range of activities – variations of the basketball game. Not to mention the sport itself is can be played as an awesome team bonding activity.
6. The Beach Volleyball Court
Just an average court, but I'm specifically excited about its net: The net alone may serve as a prop for Structured-Learning Exercises that involves height, which can intensify an experience and turn a simple activity into a natural high.
7. The Beach Front
VBR's isn't much of a thing. It's not exactly Boracay or any other acclaimed white sand beach. But at least you can say it's natural. But the reason why it's made it in this list is because of its splendidly relaxing quality – the sea breeze, the open sea in the stretch of the horizon, and a front row view of the sunrise. This area is conducive for emotionally loaded activities, like the "Carousel" and the "Apostle."
8. The Orchid Hotel Lobby
It houses a variety of framed old photographs, a mini-library, and DVD collections. It also has a small stage with a mic stand (presumable for live bands) and so it will be awesome if used as an outdoor hall for discussions and debriefings.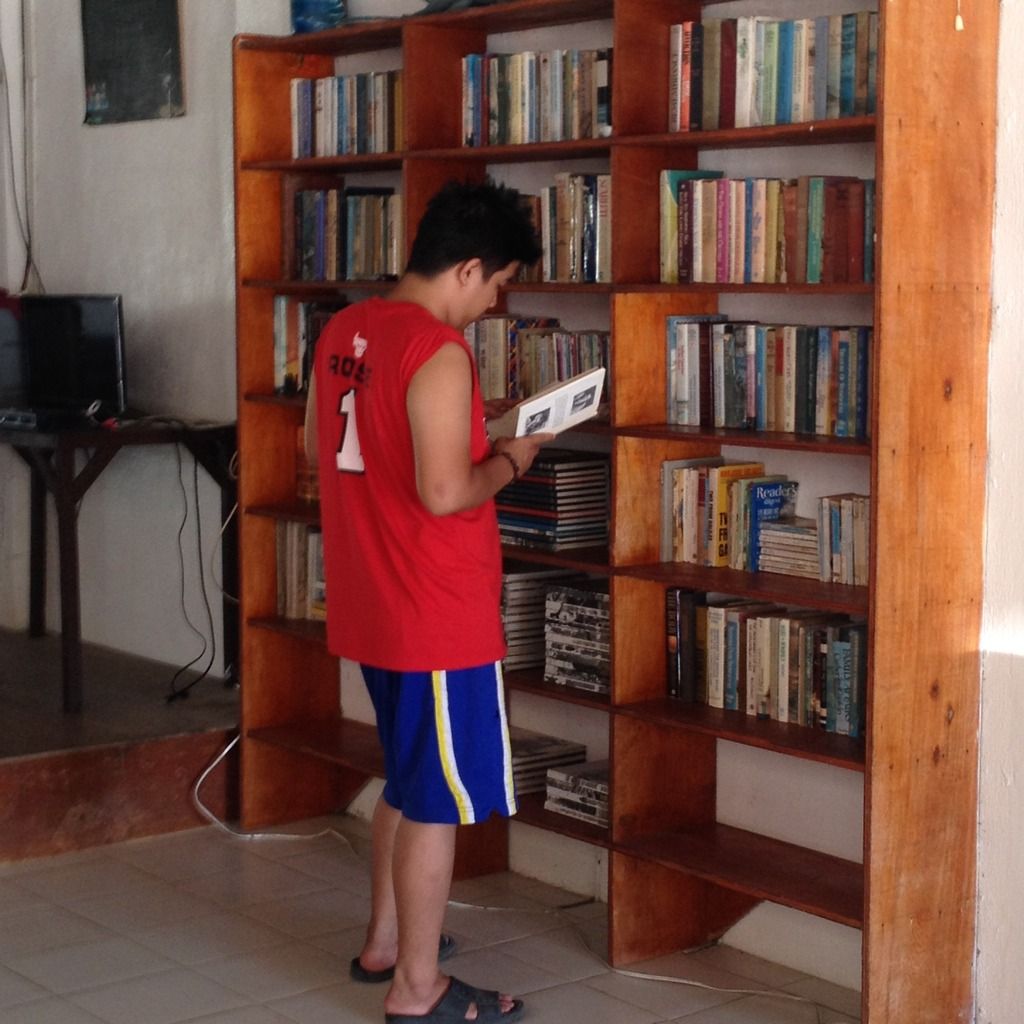 Book collection at the lobby of Virgin Beach Resort in Daanbantayan, Cebu, Philippines
9. The Accommodations
VBR have rooms that can accommodate heads ranging from couples to
barkadas
(up to twenty-four heads), for various rates starting from PhP300 per head. Either way, you can also camp up in tents at the many grass-lawn areas around the vicinity.
10. The Orchid Bar and Restaurant
For alcoholic drinkers and lovers of shakes and cocktails, this is the corner at which you can treat yourself with refreshments after a day of fun and active learning. I recommended their Rum Cola. The full service restaurant also serves good food.
Breakfast at the Orchid Bar and Restaurant
Although crudely saying, Training programs can be done almost anywhere there's space and privacy. But if you are looking to optimize your getaway with your team to a place of tranquil, relaxation, and rich moments of fun, Virgin Beach Resort will sure to provide that need for you.
Note: This piece is written by Nathaniel John Arong, a team building facilitator and team development consultant affiliated with Cebu Teambuilding Services since 2012.
Virgin Beach Resort budget team building venue in Daanbantayan northern Cebu Philippines